Lighting Your Serenity Pool
Serenity pools are equipped with the Hayward ColorLogic LED underwater lighting system. The ColorLogic LED color-changing system provides the choice of five fixed colors and seven dazzling color-changing shows; a lighting solution you will enjoy for many years. Fiber optic perimeter lighting is also available.
Five Enticing Fixed Colors

Afternoon Skies
Your evening pool, with middle-of-the-day blue.
Deep Blue Sea
Rich, saturated color makes you feel like you're swimming in the ocean.
Emerald
Give your pool the alluring magic of gemstones.
Sangria
The romance of Madrid, with a dash of fiesta.
Cloud White
Show off your crystal-clear water by illuminating with Cloud White.

Seven Electrifying Color Shows

Twilight
A constantly changing 1536 colors create a relaxing and sophisticated mood for evening entertainment.

Voodoo Lounge
When it's time to really get the party going, over 1500 colors uncorks your pool.

Tranquility
Set the mood for a relaxing evening with this serene show of calming blues and white.

Gemstone
Vibrant blue, green and magenta make this show a jewel of a choice for any pool party.

USA!
Show your patriotic spirit on the Fourth of July or any time with this star-spangled red, white and blue show.

Mardi Gras
Kids and adults alike will love the 36 fast-changing colors and atmosphere created by this cheerful show.

Cool Cabaret
Hit the disco and turn your pool into a nighttime hot spot with this vibrant show featuring 36 different colors.

ColorLogic will light up your night, with five enticing fixed colors and an unprecedented seven electrifying color-changing shows.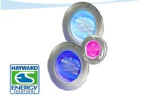 ColorLogic provides unmatched performance and noise- and service-free operation. Additionally, it has no color wheel or other moving parts.
For information about pool lighting options by Serenity Pools
call
717.442.3660
or
Email: Serenity Pools