Expect Great Results
Serenity Pools will design a custom pool that meets your needs and satisfies your tastes. W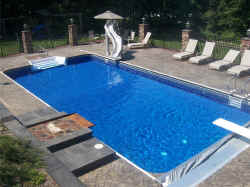 e offer you a variety of pool shapes and liner patterns from which to choose. Each standard pool package features:
Hayward Color Logic Lighting

Pro-Grid DE Filter system with a Northstar pump

Quaker steps

3' wide concrete walkway around the pool perimeter

Handrails

3-tread ladder

20 mil liner

Electrical hookup
At completion your pool will transform your backyard into a beautiful place for gathering with your family and friends.
Explore Professional Hardscaping
Serenity Pools installs your pool and offers experienced, professional hardscaping. Complete your investment by adding beautiful and durable walks, patios, waterfalls, water features and more. The options are endless so contact owner, Lamar Stoltzfus, who gladly shares his 14 years of professional experience in the pool industry to guide you to the perfect choices.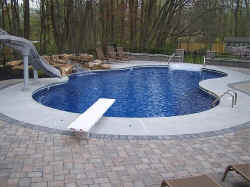 Experience No Hassle Pool Care
Caring for your pool has never been easier. Serenity provides you with pool care services, and even will open and close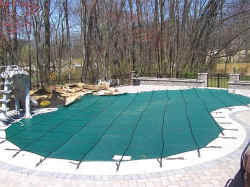 your pool each season. Whatever your needs are, Serenity is here to help. Guarantee your pool is ready for the big party, never worry if your pool is ready for friends. We are proud of our pool installations and just as proud of our pool care services. Contact us with your needs and concerns.