POOL FILTER
Serenity equips your pool with the best available and state of the art Heaters, Pumps, Filters, and Controls
The following information and photos are from the Hayward website at haywardnet.com
Pro-Grid filter tanks
are constructed of a durable glass-reinforced copolymer, for the ultimate in strength, durability and long life.
Featuring "service ease" assembly, you have low-maintenance and dependable operation.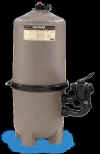 Click Image for Filter Close up
717.442.3660
Email: Serenity Pools
FILTER MEDIA
Serenity equips your pool with a Pro-Grid DE filtering system
What is DE? Diatomaceous earth is a porous powder with microscopic openings that when magnified look like tiny sponges. Clear water passes through these openings, but particles as small as 2 to 5 microns, are trapped during the first pass through the media. D.E. filters have internal elements that become coated with D.E. It is this 'filter cake' that strains dirt, dust and algae from the water.
Similar to sand filters, when D.E. filters become dirty, they are cleaned either by backwashing, or regenerating and draining the clogged D.E. to the 'waste' line. To restore filtration, a fresh 'charge' of D.E. is added to the filter.
Pro-Grid™ vertical grid D.E. filters provide superior water clarity, efficient flow and large cleaning capacity for pools and spas of all types and sizes. Constructed with high-strength reinforced thermoplastic, Pro-Grid combines high-technology features and "service-ease" design for an unparalleled filtration value for both new pool and aftermarket installations.
In addition, Pro-Grid delivers low maintenance and dependable operation.
Features:
Reinforced thermoplastic filter tanks constructed from durable glass reinforced copolymer to meet the demands of the toughest applications and environmental conditions, including in-floor cleaning systems

Self-Aligned tank top and bottom make access to servicing the grid elements fast and simple

Heavy-duty, tamper-proof one-piece flange clamp securely fastens tank top and bottom, allowing for quick access to all internal components without disturbing piping or connections

High impact grid elements designed for up-flow filtration and top-down backwashing for maximum efficiency

Integral lift handles and uniform low-profile base make removal of grid nest fast and simple

Inlet diffuser elbow distributes flow of unfiltered water evenly to all filter elements and provides even distribution of D.E. to grids

72 ft filter made of reinforced thermoplastic allows for both commercial and large residential applications and years of non-corrosive, trouble-free performance

New High capacity, rapid release manual air relief valve bleeds air with a quick quarter turn of the lever